Sharon's Project Inspiration:
Growing older will always stir up memories, and carries you back to days gone by. All of the songs on this album were inspired by just that. Hopefully this album will stir up old memories and feelings of your own, and bring a smile to your face!
​
Billy's Thoughts:
This is a special project for me because it is the first one Sharon and I have done together from beginning to end. It's also a chance to again go back to my roots of my family, who were all Country & Bluegrass musicians. I have met a lot of my family on my father's side as far out as 3rd cousins, and it is amazing how many of them are incredible musicians! It runs really deep in my family.
Song Details & Videos
'Jalopy Joe'
---
Inspiration For The Song: We were driving down Shelbyville Road in Louisville, Kentucky when Sharon noticed an old vintage truck off to the side of the road. She said, 'look at that old jalopy.' I said, 'yeah, Jalopy Joe.' Of course, we carried on with the story adding on different scenarios of that old truck and bam!, the song was born. Lyrics: When I was just a young boy around the age thirteen
We didn't have much money and times were really lean
Navy beans and cornbread were pretty much routine
Hard times and bad luck is all we ever seen

Jalopy Joe rollin' down the road

My daddy drove an old truck that's all he could afford
It didn't have a tailgate, and rust was on the doors
When Monday morning came around he'd drop me off at school
And as my daddy drove away, the kids would all yell fool

Jalopy Joe rollin' down the road

(Chorus)
Spittin' and sputtering
Look at all that smoke
Comin' from those tailpipes
As its rolling down the road
Bald tires all around
Ain't even got a spare
That old engines bout to go cause oil's everywhere

Now that I'm a young man about to turn eighteen
I'm ready for adventure and following my dreams
Pops he never had much, was always down on luck
Wasn't much to leave me, but he left me that old truck

Jalopy Joe rollin' down the road

Got a job to pay the bills, but never there on time
That old truck means more to me but isn't worth a dime
Tried to go out on a date, I thought she was the one
But when I pulled up at the door she turned around to run

Jalopy Joe rollin' down the road

(Chorus)
Now that I'm much older and success has come to me
I took a lot of money and time that I had free
New rims and new tires, polished as can be
Took a lot of hard work but means a lot to me

Jalopy Joe rollin' down the road

I wish Pops was still here to see that truck today
Sure has come a long way since hauling all that hay
People at the car shows have envy on their face
Every time I take it there I always win first place

(Chorus)
Duel carbs, fine tuned, hear that engine go
Smoke coming from the tires as its rolling down the road
If Pops was with me now, I'd take him for a drive
If only he were standing there to see it win first prize

Jalopy Joe rollin' down the road Songwriters: Billy Stewart, Sharon Stewart BMI/Tunecore For non-commercial use only.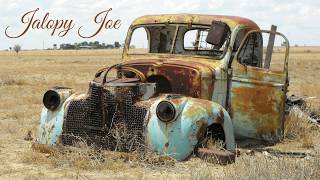 ---
'Crazy Cowboy'
---
Inspiration For The Song:
Many years ago there were rodeo events scheduled at the Princess Anne Park in Virginia Beach, Virginia. We drove past the park one day, and the memories of that inspired the song. Lyrics:
---
'The Rocking Chair'
---
Inspiration For The Song: One day Sharon was sitting at the house, the kids were gone and the grandkids were at school. She looked across the room at the rocking chair and started thinking about all of the different stages of your life a rocking chair takes you through - being rocked as a child, rocking your own children, aging grandparents rocking in the chair, ect... Lyrics:
---
'Hank's Place'
---
Inspiration For The Song: There is an old weathered tavern that sits out in Pungo in Virginia Beach, Virginia by the name of 'Monk's Place.' Driving past that one day inspired a song about an old abandoned tavern that once was a lively place filled with life. Lyrics:
---
'Time Is Running Out'
---
Inspiration For The Song: We had a neighbor many years ago that was approaching retirement age. Sharon saw him leave for work every day looking so worn out. All he ever wanted to do was stay home and do woodworking. That scenario inspired her song, thinking about how he must have thought many, many times that time was running out for him to accomplish his dreams. Lyrics:
---
'The Piano Man'
---
Inspiration For The Song: Many years ago we had an old stand up piano in our living room. Sharon was reflecting back on old memories and remembered that old piano. It inspired the song. Lyrics:
---
'That Used To Be Me'
---
Inspiration for the Song: Sharon volunteered for Meals on Wheels when we lived in North Carolina. She would deliver to a low income neighborhood, and would always see so many homeless people walking the streets, sitting in the park and hanging out on the street corner. She often wondered how many of those people use to live in nice homes, wearing nice clothing, and driving nice cars. She often wondered what caused them to spiral downward and become homeless. This sparked the idea for this song. Lyrics:
---
'Still Can See Her There'
---
Inspiration For The Song: Sharon's mom passed away in 2017, and she spent many days reminiscing about her. One of the things that she remembered most about her mom was her unending and unselfish time she devoted to her four sisters, herself and her dad. The fondest memory she cherishes is seeing her mom standing at the stove cooking breakfast, lunch & dinner for her family. She never complained and always enjoyed taking care of everyone. Lyrics:
---
'Forever Young'
---
Inspiration For The Song: Sharon and I started dating when she was only fifteen years old, and I was seventeen. Her dad was very strict in the dating department, so we use to meet down at Hounz Lane Park in Louisville, Kentucky. There was a very old bridge in the middle of the park, and that's where we use to meet and stand talking for hours. Over time our love grew strong down there in that little park. This was the inspiration for this song. (BTW - that was back in 1972, and we are still together and in love today in 2020!) Lyrics:
---
'The Old Red Barn'
---
Inspiration For The Song: Lyrics:
---
'Thank God For The Farmers'
---
Inspiration For The Song: We use to live out in the country down in North Carolina many years ago. Sharon was taking care of one of our grand daughters, Lauren when she was little and she called her over to the front window. She told Sharon that it was raining dirt. When Sharon looked out the front window she saw a tractor across the street out in the field plowing the land, and the dirt was spraying up out of the back of the tractor! It really did look like it was raining dirt out there. This sparked the idea for this song! Lyrics:
---
'Simple Sounds'
---
Inspiration For The Song: Lyrics:
---
---